› Exit planet dust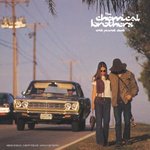 UK/US/Japan CD Junior Boy's Own / Freestyle Dust / Virgin Records (UK/Europe/Japan), XDUSTCD1 (Japan catalogue number unknown) Astralwerks ASW (US) 6157-2
01 Leave Home (5:32)

02 In Dust We Trust (5:17)

03 Song To The Siren (3:16)

04 Three Little Birdies Down Beats (5:38)

05 Fuck Up Beats (1:25)

06 Chemical Beats (4:50)

07 Chico's Groove (4:48)

08 One Too Many Mornings (4:13)

09 Life Is Sweet (6:33)

10 Playground For A Wedgeless Firm (2:31)

11 Alive Alone (5:16)

The former Dust Brothers make oblique reference to litigation averted on their debut full-length. The Chemical Brothers' sound is big on bombast, replete with screeching guitar samples and lots of sirens and screaming divas. A breakthrough album of sorts, Exit Planet Dust was, upon its release, one of the few European post-techno albums to make any sort of headway into the stateside market.